New properties soon to be available at Martindale Road, Warners End
Published: Friday 31 July 2020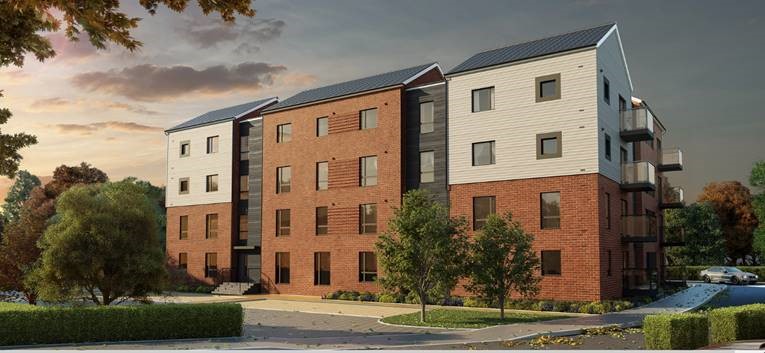 You will soon be able to bid on the new council properties in Warners End – Martindale Road. , which is nearing completion. The development is made up of:
15 one bedroom flats
4 two bedroom flats
15 x 2 bed houses
10 x 3 bed houses
Advertising on these properties will start in the next week so check your account on a regular basis so you do not miss the opportunity to bid on a property you may be eligible for.
Please note that advertising and allocation of these properties will be completed in line with a defined local lettings plan which can be viewed below. This is to ensure that properties are allocated fairly between all applicant types, encourage diversity of the tenant group and to ensure that there is a measured demand on the communal spaces.
Things to be aware of:
The flats share communal outdoor space and bin store facilities, the properties DO NOT have private outside space.

Parking is available for the flats but is not allocated.

The flats DO NOT have a lift.

Gas central heating in all properties

Gas and electric cooking facilities

Parking for each house is 2 spaces next to or near the property – successful applicants will be given a conveyancing drawing to show boundaries and parking spaces.
If you are shortlisted for one of these, the Council's Allocations Team will contact you.
Local Lettings Plan
The Martindale Road development is comprised of 44 Properties comprising of houses and flats.
These properties are broken down as follows;
15 x one bedroom flats
4 x two bedroom flats
15 x two bedroom houses
10 x 3 bedroom houses
3 of the above two bedroom properties mentioned are fully adapted, 2 x two bedroom houses and 1 two bedroom flat. These are excluded from the local lettings plan as they will be allocated from the specified adapted waiting list.
The remaining 41 properties will be allocated out in the following way;
30% of allocations will be made to homeless applicants where full duty has been accepted. (12 properties)
The remaining 70% of properties will be let to Home seeker and Transfer applicants in an even split where possible. (29 properties)
One bedroom properties - 15
25% (3-4 properties) will be let to couples (Homeless nominations will be included in this)
25% of properties (3-4 properties) will be let to households where applicants are aged 25 or over (Homeless nominations included in this)
Two bedroom properties - 16
50% of two bed properties (8 properties) will be let to households with at least one child.
Three bedroom properties - 10
50% of three bed properties (5 properties) will be let to households with at least two children.